2013
8-10 March, 15-17 March, 11-13 October
Treat yourself to a complete writing weekend or even just a single day, becoming immersed in the natural beauty of the Norfolk Broads. Workshops will be led by poet and story maker, John Row aboard 'Betsie Jane', a lovingly restored 1930′s gentleman's launch using the wild and unspoiled landscape of the Norfolk Broads. Accommodation will be in one of the award winning Waveney River Centre's luxury lodges.

This year we are providing the opportunity for writers to choose themselves what genre they would like to explore. The inspiration will be provided by the surroundings and the company. John Row, an experienced workshop leader, will be on hand to help each writer develop along their chosen path.
Friday evening will be a relaxed session getting to know each other and discussing what each writer might want to get out of the weekend.
On  both Saturday and Sunday we will take a four hour cruise on Betsie Jane along the Norfolk Broads. This challenging landscape cannot help but inspire. Lunch will be served on board.  After each days cruise there will be time for participants to write away from the group. Evening sharing sessions will be helped along by a light buffet and wine in one of the Waveney River Centre's luxurious lodges.
Source material about the broads, its folklore and history together with the history of the Betsie Jane will be available.
The weekend includes accommodation for three nights, two cruises, a light lunch on each cruise and workshops with John Row.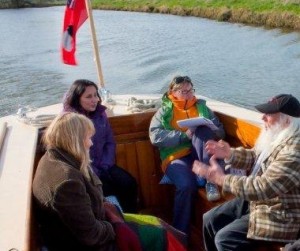 Testimonial – Inspired writing at extraordinary locations
I attended the first "Inspired writing at extraordinary locations" weekend in March 2012.
First impressions were great – the Waveney River Centre is definitely an extraordinary place, almost as soon as I arrived I started to feel relaxed and just a little more creative.
And on Saturday morning we were introduced to "Betsie Jane" – the 1930s gentleman's launch that was to be our day-time base for the weekend. The hospitality offered to us by Paul and Heidi on the boat was perfect and the setting was created for a truly inspiring weekend.
I am not a creative writer – I am a business writer and my objective for the weekend was to get some real groundwork done with my co-author, Sara Thorpe, on our next book. And that objective was achieved!
John was able to create a space for writers from all backgrounds and genres to interact, reflect, find inspiration and write – no mean feat with a mixed bag of poets, children's authors and business writers on board.
I wish that all my weekends could be like this one! I would have no hesitation in recommending John's writing weekends to any writer who wants to take time out with others and take inspiration from the surroundings, from John and from their fellow participants. My advice if you're considering signing up would be "Just do it."
Jackie Clifford
Review of Writing Weekend 23rd – 26th March
This was a great weekend away. The Waveney River Centre is a picturesque and restful place to stay, with opportunities to go for a swim in the pool, spot some rare species of bird, share a meal with other workshop participants, and just chill out in the really well equipped accommodation while enjoying views of the river.
The workshops with John were encouraging and positive, with time to share our own writing and ideas, learn from each other (being a holiday for all kinds of writers brought some interesting new perspectives) and also to get some individual feedback and inspiration from a respected and experienced poet and storyteller. John responded to the interests of the group by adapting the programme and being flexible regarding our individual focus and interests as writers.
The trips on the Betsie Jane were a highlight, and the day trip along the river through Beccles and on to Geldeston Locks Inn was amazing. Paul and Heidi were such welcoming hosts and took so much trouble to make sure we enjoyed our time in their beautiful boat – fantastic food, warm and friendly company, and even the chance to take the helm for a while.
The best thing? Definitely the company – being amongst people who all have a passion for writing, in whatever format, and who are up for a weekend of sharing enthusiasms, enjoyment of our local landscape, good conversation and the odd glass of wine – definitely recommended!
Jen Overett
April 2012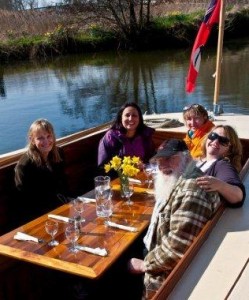 Accommodation consists of single or double rooms in a luxury lodge at the Waveney River Centre.
Maximum number. 10.
Cost £375.00 p.p. with a 10 % discount p.p. for shared rooms.
One day cruise and workshops without accommodation £135.00.00
Enquiries:-email: info@betsiejane.co.uk  tel. Paul Rainbird 07789401742
Links
http://www.guardian.co.uk/uk/2002/nov/11/ruralaffairs
http://www.geldestonlocks.co.uk/