Biography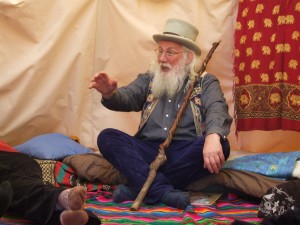 John Row was born in Barking, Essex in 1947. He spent most of his childhood in Harlow New Town. This was a time of innovation when public art was considered to be essential to the town's development. Barbara Hepworth sculpted in shopping centres and Henry Moore sculptures were placed in green spaces while national orchestras and ballet companies performed in school halls.
In 1963 he moved to Suffolk where he attended the local art school.
He spent the next decade dropping out of colleges, travelling, working in special needs hospitals, moving from the visual arts to the written word and getting married before studying American Studies as a mature student at the University of East Anglia . Adding a P.G.C.E. to his degree a few years later he spent ten years as a supply teacher in Ipswich and Felixstowe working in High Schools and Pupil Referral Units.
During this period he teamed up with Nick Toczeck touring with Nick's poetry and music show 'Stereo Graffiti'.
He was one of the first fifty writers on the then, Eastern Arts Association's, 'Writers in Schools' and 'Writers in the Community' schemes.
He added storytelling to his performance activities in the late eighties while managing a bookshop at Colchester Arts Centre.
He also teamed up with a group of reggae and free form jazz musicians to form 'Sound Proposition' which toured East Germany for the last weeks of existence in 1990.
Since then he has told stories from Texas to Lapland . He has run the storytelling tent in the Kidz Field at Glastonbury Festival for ten years and is a permanent feature of Cambridge Folk Festival. He was the first 'Storyteller in Residence' in a British prison and was 'Writer in Residence' at 'H.M.P. Highpoint' from 2004-2008. Currently he is writer in residence at HMP Blundeston.
From 2004 to 2006 he was one of sixteen artists working on the "Being Here" project in Southend.
As part of his 'Text-Collecting' project he has gathered the thoughts and memories of people on the street from rural Suffolk to the heart of Birmingham .
He is co founder with singer, songwriter  Paddy Stratton of 'Serious Times' a poetry and music outfit,  as well as continuing to tour festivals, schools and beaches and playing at being a grandfather.
In the last two years he has visited Vienna working with 3-8 year olds using storytelling in the teaching of English as an additional language, Malaysia, performing at international schools, Finnish Lapland, telling stories to tourists and Texas appearing at schools and festivals.
He has run annual seminars to visiting foriegn teachers on the use of storytelling in the teaching of English as an additional language at U.E.A. for fifteen years.
Together with Alistair Fruish he created a project, funded initially by the Arts Council, using 'Comic Life' to create stories using photography and a comic template.
Caboodle Press published a collection of stories from around the world 'Out Of The Hat' in 2010.